Water Play Equipment Inflatable Bowknot Water Hammock Floating Lounge Hammock Pool Float For Adults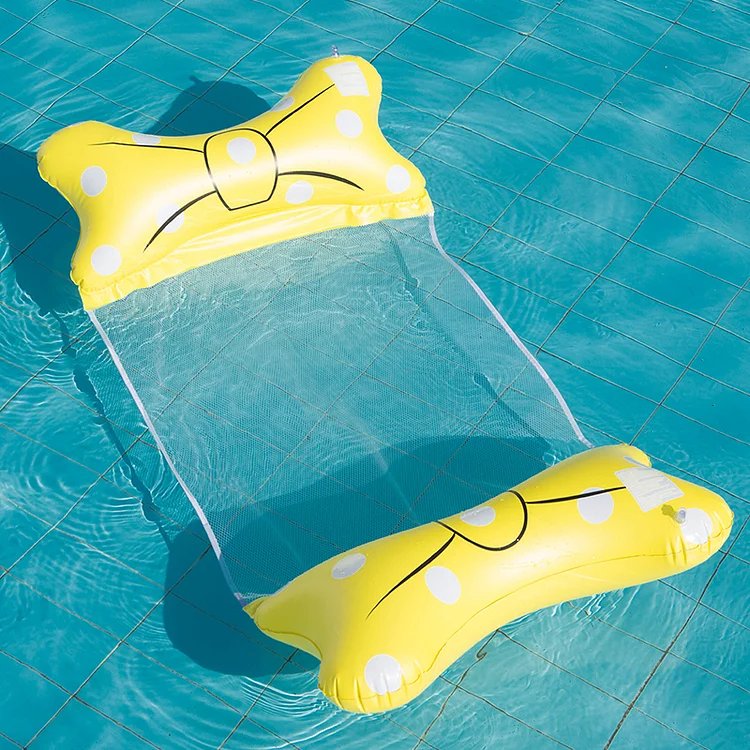 Water Play Equipment Inflatable Bowknot Water Hammock Floating Lounge Hammock Pool Float For Adults
About this item

* 【4-in-1 Inflatable Float System】 The water hammock has four functions. You can use it as a hammock,
lounge chair, exercise saddle, and drifter that can give you a different experience. You will enjoy the full
pleasure of being in the water.
* 【Designed for Total Comfort】 The pool float inflatable water hammock can make you in a semi-submerged
position, you can stay refresh and cool when floating. Our portable water hammock can make you forget
all the troubles and enjoy your own holiday, luxuriate in sunshine, relax in cooling comfort with the water
surrounding.
* 【Sturdy and Durable 】The pool float lounger is made of high-quality PVC fabrics. Even though you have
used it for many times in the water, it can still keep the original shape, color and performance.
* 【Easy to Carry】 Our mesh pool float is easy to storage and carry. Just roll it up, put it in your bag or
suitcase and take it
to the vacation. Besides, you can inflate and deflate the swimming pool float hammock quickly and easily.
We love to hear from you,our team is available to help answer questions and offer styling advice, so if there's anything you'd like to ask us, we're right here and ready to help in every way we can.
We're available to support you via
Email: jet@willcol.com
Instagram:ywwillcol

Service Tel:+86-13967425749

Whatsapp:+86-13967425749

Yiwu Yaoku Trading Co., Ltd.
We strive to answer your questions within.24 hours.
Customer service chat hours:
Monday to Saturday (Except holidays) Pacific Time: 5:30 pm-2:30 am the next day
We care about every customer and will contact you as soon as possible!
Listen carefully to all suggestions and comments, and welcome everyone to come and give me your opinions.
Please kindly note: During peak seasons and promotional sales, our response time might take a little longer. Please use the same email address you used when placing your order when contacting us, and include your order number in your email.