Inflatable Water Basketball Stand With Ball For Pool Water Fun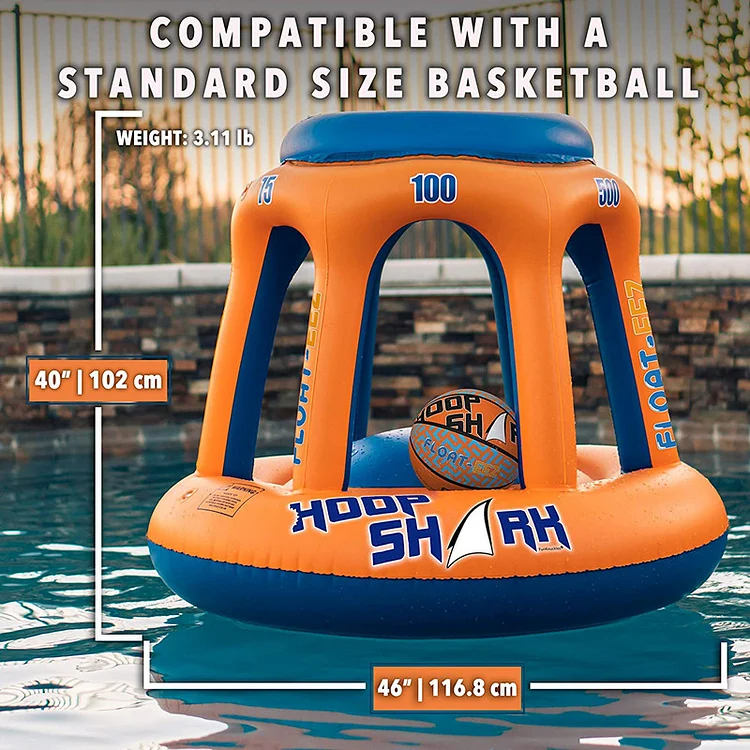 Inflatable Water Basketball Stand With Ball For Pool Water Fun
About this item
Perfect Pool Toy: This pool basketball hoop allows you and your family to play basketball in the water, which
will surely keep you cool during the summer, no need to play on a hot outdoor court.


Suitable for Everyone Everywhere: Adults, children, and even dogs can have fun playing this pool basketball
game in water, on the ground, and even indoors at home.
Convenient to Use: Easy to inflate and deflate, and the best part is how simple it is to store this basketball
hoop, it barely takes up any space when deflated, and it can be placed in a suitcase for easy travel.
Good Stability: The dimensions of this basketball hoop water toy are: 47×43 inches, which provides good
stability, will not fall down when the ball hits it and brings you a good gaming experience.
What you get: The package includes an inflatable basketball hoop and an inflatable basketball, for any issue
or request, please do not hesitate to contact us electronically, we respond to all requests within 24 hours
We love to hear from you,our team is available to help answer questions and offer styling advice, so if there's anything you'd like to ask us, we're right here and ready to help in every way we can.
We're available to support you via
Email: jet@willcol.com
Instagram:ywwillcol

Service Tel:+86-13967425749

Whatsapp:+86-13967425749

Yiwu Yaoku Trading Co., Ltd.
We strive to answer your questions within.24 hours.
Customer service chat hours:
Monday to Saturday (Except holidays) Pacific Time: 5:30 pm-2:30 am the next day
We care about every customer and will contact you as soon as possible!
Listen carefully to all suggestions and comments, and welcome everyone to come and give me your opinions.
Please kindly note: During peak seasons and promotional sales, our response time might take a little longer. Please use the same email address you used when placing your order when contacting us, and include your order number in your email.