Inflatable Rapid Floating Island Suitable To 4 People Lounge Pool Float 43115 Includes 4 Cup Holders And 2 Embedded Coolers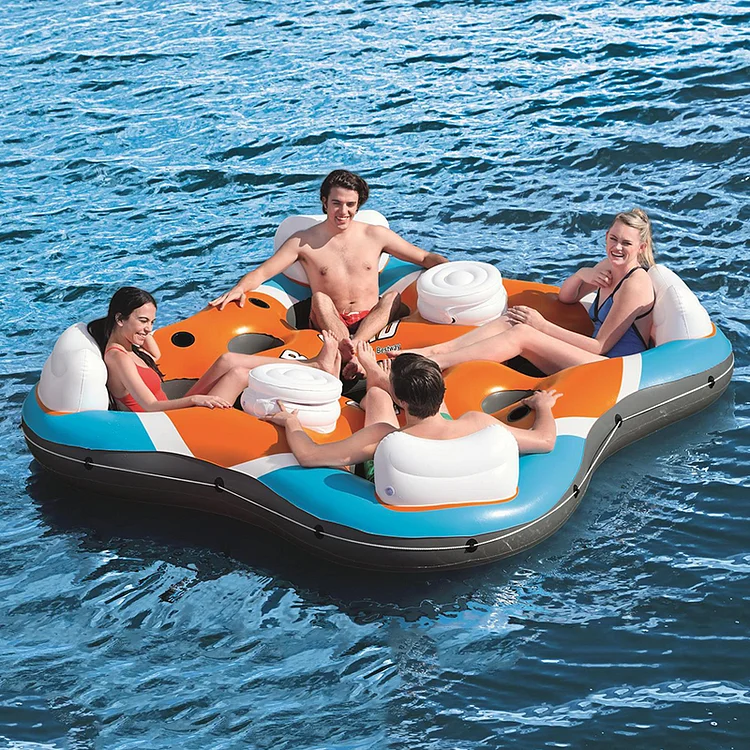 Inflatable Rapid Floating Island Suitable To 4 People Lounge Pool Float 43115 Includes 4 Cup Holders And 2 Embedded Coolers
About this item
Perfect party float: This large floating raft is the ideal solution for ultimate summer fun for adults and kids.

It can comfortably fit up to 4 people with extra wide pillow backrests and built-in cup holders for each person.

Stay cool on the water: dip your feet and legs in the water to cool off in the open floor area in the middle

of the float. Each seat Has pliable mesh bottoms, so you sit below the waterline for a refreshing feel.

Keep your ice cold beverage close: 4 cup holders are strategically placed around the float, so everyone is

always at arm's reach of their favorite drink. Stash beverages and ice in the 2 convenient built-in cooler bag,

so you don't have to come off the water to replenish drinks.

Fun all summer long: Made from puncture-resistant Fortech and in flat a shield Material to enhance durability

and flexibility, This pool float can handle all water settings, like the pool, beach, lake, or River. When deflated,

fold it up compactly for easy storage and transportation. A heavy-duty repair patch comes with for accidental

rips or tears.

Connect to other tubes: 4 grab ropes with built-in grommets can be used to connect yourself to other pool

floats, anchors, boats, or Docks.
We love to hear from you,our team is available to help answer questions and offer styling advice, so if there's anything you'd like to ask us, we're right here and ready to help in every way we can.
We're available to support you via
Email: jet@willcol.com
Instagram:ywwillcol

Service Tel:+86-13967425749

Whatsapp:+86-13967425749

Yiwu Yaoku Trading Co., Ltd.
We strive to answer your questions within.24 hours.
Customer service chat hours:
Monday to Saturday (Except holidays) Pacific Time: 5:30 pm-2:30 am the next day
We care about every customer and will contact you as soon as possible!
Listen carefully to all suggestions and comments, and welcome everyone to come and give me your opinions.
Please kindly note: During peak seasons and promotional sales, our response time might take a little longer. Please use the same email address you used when placing your order when contacting us, and include your order number in your email.