Inflatable Pool Float Set Volleyball and Basketball Hoops Swimming Pool Floating Game Toys for Kids and Adults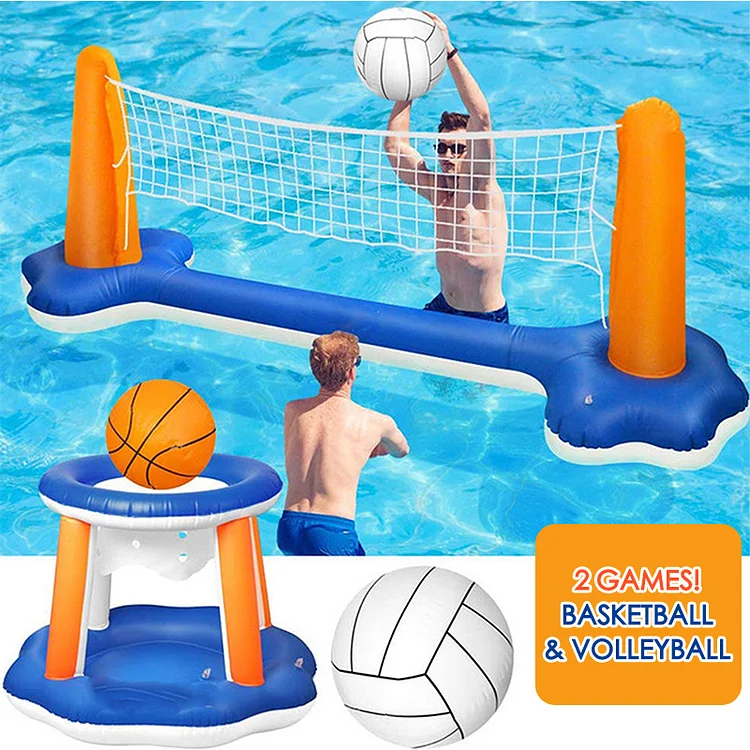 Inflatable Pool Float Set Volleyball and Basketball Hoops Swimming Pool Floating Game Toys for Kids and Adults
About this item

* 【FULL Inflatable Pool Float Set】Includes an Inflatable Volleyball Court, an Inflatable
Basketball Hoops, an Inflatable
Volleyball, and an Inflatable Basketball. With this floating swimming pool toy, just enjoy
the Parent-child time and a fun
round of volleyball game in the pool!

* 【Safe Floating Swimming Pool Toy】This summer water toy is made of durable high-quality
0.23 mm thick PVC material, make the inflatable volleyball court sturdy, soft and comfortable,
strong sealing, firmer and lasting play, environmentally friendly and on-toxic.
* 【Add Weight Bags to Keep Float in Place】Included 2 weight bags, add anchor weights,
to keep the volleyball set in place. While there is wind, you don't need to worry the court
float away anymore, just have fun with your family or friends! Shop with 100% confidence!

* 【Perfect Summer Gift for Kids & Children】The Swimming Pool Toy is suitable for birthday
gifts, outdoor beach lawn toys, summer pool parties, school classrooms and More! It would
be the best gift for 3-12 years old boys and girls, to get lots of awesome pictures of little ones,
and it's an amazing surprising they can enjoy all summer.

We love to hear from you,our team is available to help answer questions and offer styling advice, so if there's anything you'd like to ask us, we're right here and ready to help in every way we can.
We're available to support you via
Email: jet@willcol.com
Instagram:ywwillcol

Service Tel:+86-13967425749

Whatsapp:+86-13967425749

Yiwu Yaoku Trading Co., Ltd.
We strive to answer your questions within.24 hours.
Customer service chat hours:
Monday to Saturday (Except holidays) Pacific Time: 5:30 pm-2:30 am the next day
We care about every customer and will contact you as soon as possible!
Listen carefully to all suggestions and comments, and welcome everyone to come and give me your opinions.
Please kindly note: During peak seasons and promotional sales, our response time might take a little longer. Please use the same email address you used when placing your order when contacting us, and include your order number in your email.