Inflatable Duck Pool Float Boat Seats Beach Toy Lounge For Kids And Adults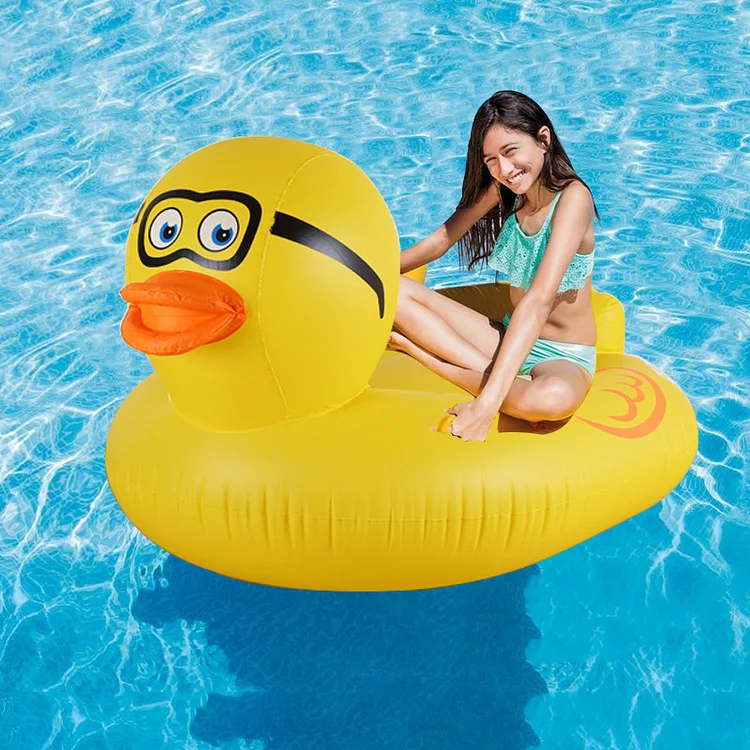 Inflatable Duck Pool Float Boat Seats Beach Toy Lounge For Kids And Adults
About this item

* 【 Cute Yellow Dark Design】 inflatable duck float yellow duck pool floats for baby bath seat,
swimming pool baby toys, rubber duck game pool floats duck . Lifelike shape, bright colors ,what
more it will squawking if you pinch the duckbill, how interesting for baby, bring your baby very
fun experience on water.
* 【 The Handle Grip】blow up rubber duck inflatable animals pool rafts for swimming pools,
With Handle Provides a sense of security and comfort for your baby in the water, very sturdy;
With seating design, our swimming boat can prevent the baby from falling into the water and
more free to swim.
* 【Great Gift for your Kids】 rubber duck float duck tub inflatable duck floatie infant toys poo
l floats for kids, outdoor games for kids ride on toys, river tube bull float swim trainer. This water
float for infants and kids can help keep them safe and supported while in the water.
* 【 Application】Rubber ducky floaty pool duck float party decorations, animal rubber duck
floatie water ring game. Lightweight and inflatable design, great for keeping your baby in the
pools, hot tubs, lakes, oceans and more.
* 【Our promise】 Suitable for baby age 3month-6 years old, Our baby floats Offer 12 Month
Warranty and 30 days Money Back .
We love to hear from you,our team is available to help answer questions and offer styling advice, so if there's anything you'd like to ask us, we're right here and ready to help in every way we can.
We're available to support you via
Email: jet@willcol.com
Instagram:ywwillcol

Service Tel:+86-13967425749

Whatsapp:+86-13967425749

Yiwu Yaoku Trading Co., Ltd.
We strive to answer your questions within.24 hours.
Customer service chat hours:
Monday to Saturday (Except holidays) Pacific Time: 5:30 pm-2:30 am the next day
We care about every customer and will contact you as soon as possible!
Listen carefully to all suggestions and comments, and welcome everyone to come and give me your opinions.
Please kindly note: During peak seasons and promotional sales, our response time might take a little longer. Please use the same email address you used when placing your order when contacting us, and include your order number in your email.