Inflatable Dinosaur Shark Splash Pad Sprinkler Pool Shower For Kids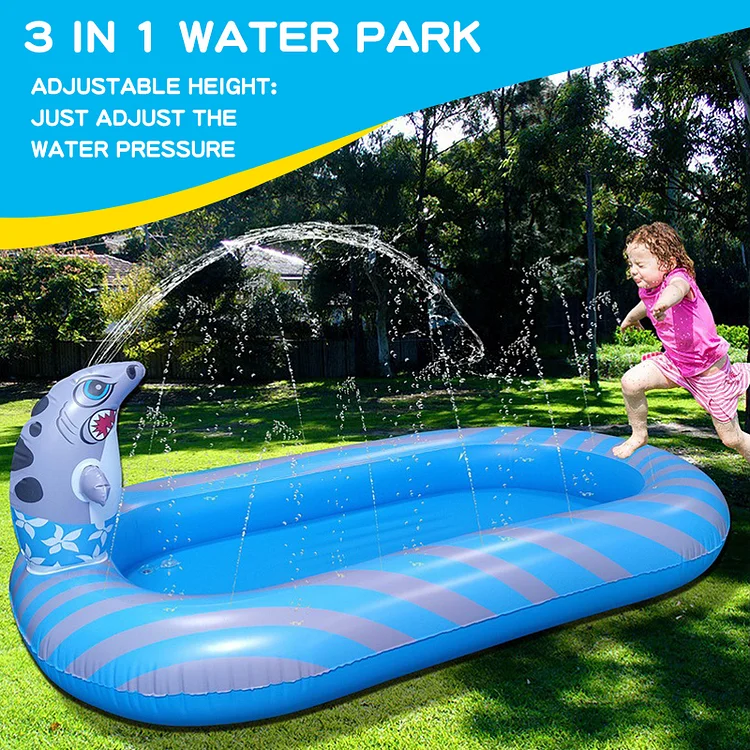 Inflatable Dinosaur Shark Splash Pad Sprinkler Pool Shower For Kids
About this item

【2 in 1 Splash & Inflatable Water Pool】This swimming pool can be a sprinkler and a water pool for
kids adults and pets summer. You can hold the sprayer to splash water, which will give your family
more fun of spraying water along with a hint of coolness. The cute dinosaur design makes children
fall in love with swimming and water play easily.
【Portable & Lightweight Kids Swimming Park 】The pool don't need your too much space, which kids
can play water in anywhere, such as outdoor, small garden, backyard, or your children can take a bath
indoor. Weight 2.6bls is lighter than any other pools, easy to take, and this water height is safe for children

【 Easy to Install & Use 】This is just a small size outdoor pool, can quicker and easier to inflate and
deflate within 3-4
minutes by an electric pump ( Not Included In Package), and store in car. The built-in curved water
valve with 90°vertical drainpipe make speed up the drainage.

【Safe Durable Material 】Inflatable pool is up to standard of international children's toys with CPSIA,
CPC certificates. which is safe for children. It is durable, wear-resistant, high elasticity. The edge is soft,
the ink is stable, the material is safe. All for safety and skin care, you can use it safely

【 Suitable for Multiple Usage 】The kids pool can be used as a swimming pool, Ball Pit, Sand Pit, Fishing
Pond, Toy Pool that you can play with your children at home, backyard or patio, Even the Lounge Room
For toddlers , or bathing your pets. This is a really small water funny park for your family, enjoy a happy
time with kids.
We love to hear from you,our team is available to help answer questions and offer styling advice, so if there's anything you'd like to ask us, we're right here and ready to help in every way we can.
We're available to support you via
Email: jet@willcol.com
Instagram:ywwillcol

Service Tel:+86-13967425749

Whatsapp:+86-13967425749

Yiwu Yaoku Trading Co., Ltd.
We strive to answer your questions within.24 hours.
Customer service chat hours:
Monday to Saturday (Except holidays) Pacific Time: 5:30 pm-2:30 am the next day
We care about every customer and will contact you as soon as possible!
Listen carefully to all suggestions and comments, and welcome everyone to come and give me your opinions.
Please kindly note: During peak seasons and promotional sales, our response time might take a little longer. Please use the same email address you used when placing your order when contacting us, and include your order number in your email.