Inflatable Beer Coolers Ice Bucket PVC Cup Holder For Beach Pool Parties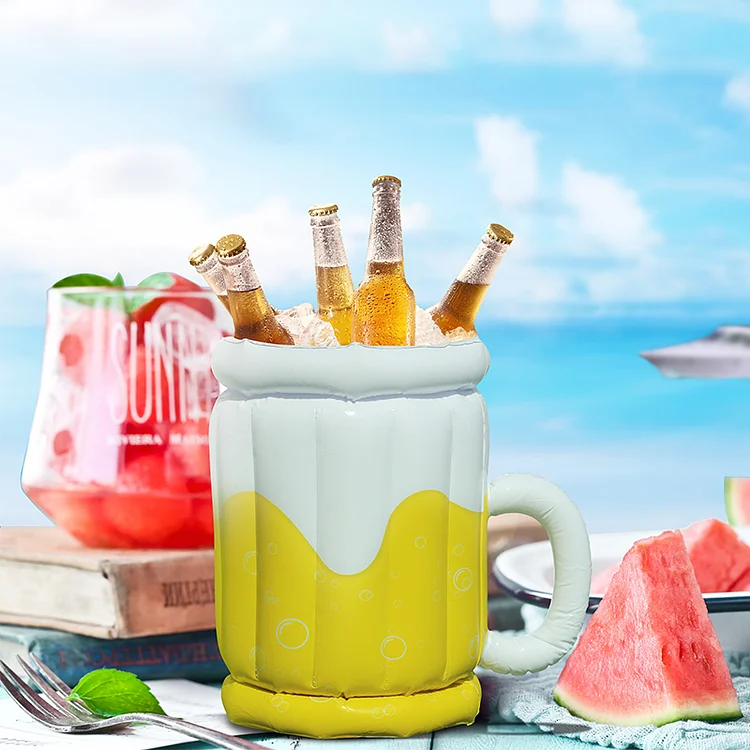 Inflatable Beer Coolers Ice Bucket PVC Cup Holder For Beach Pool Parties
About this item
* 【KEEP YOUR BEER COLD】 - Display beer, wine, soda, and more in this oversized inflatable beer mug drink cooler.
The inflatable design makes it easy to blow up when it's party time, and easy to fold away when not in use. Chill
your beverages the fun way!
* 【CHARMING NOVELTY DESIGN】 - This playful beer bucket is shaped like a frosty mug brimming with beer,
making it the perfect party accessory for house parties, backyard barbeques, or a firepit at the beach. Lightweight
and portable for easy transport.
* 【HOLDS A 12-PACK WITH ROOM FOR ICE】 - Don't run out of cold beer! Fill this drink tub with a 12-pack of your
favorite brews or a few bottles of wine, add a generous quantity of ice, and get the party started whether you're at
home, camping, or at a picnic.
* 【GREAT GIFT FOR BEER-LOVERS】 - Give this ice bucket as a gift to beer lovers, bartenders, college kids, or
anyone who could upgrade their party game. Perfect for Father's Day gifts, groomsman gifts, and housewarming
gifts.
We love to hear from you,our team is available to help answer questions and offer styling advice, so if there's anything you'd like to ask us, we're right here and ready to help in every way we can.
We're available to support you via
Email: jet@willcol.com
Instagram:ywwillcol

Service Tel:+86-13967425749

Whatsapp:+86-13967425749

Yiwu Yaoku Trading Co., Ltd.
We strive to answer your questions within.24 hours.
Customer service chat hours:
Monday to Saturday (Except holidays) Pacific Time: 5:30 pm-2:30 am the next day
We care about every customer and will contact you as soon as possible!
Listen carefully to all suggestions and comments, and welcome everyone to come and give me your opinions.
Please kindly note: During peak seasons and promotional sales, our response time might take a little longer. Please use the same email address you used when placing your order when contacting us, and include your order number in your email.