Folding Inflatable Lazy Flocking Recliner With Footstool Lounge Sofa Bed Set Great For Indoor And Outdoor Backyard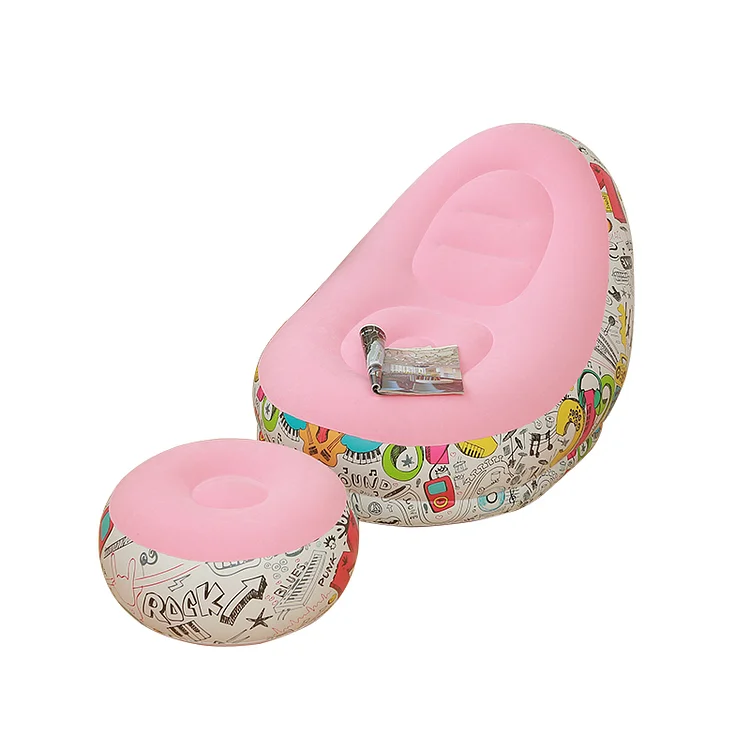 Folding Inflatable Lazy Flocking Recliner With Footstool Lounge Sofa Bed Set Great For Indoor And Outdoor Backyard
About this item
🛋️【EASY & CONVENIENT】- Our inflatable sofa when folded is the perfect portable size that makes it so easy to
carry and store when not in use. So you have a hassle-free start to a comfortable, lazy and relaxing day ahead.
🛋️【ERGONOMIC】- Our PVC inflatable sofa set is designed seamlessly with its neat and tight seams all throughout.
It conforms to the human body, giving it the most natural and comfortable support for your to sit or lie down
when reclined. If your feet couldn't reach the floor, don't worry! We have also provided you with a footstool so
you can rest your feet on.
🛋️【DURABLE & EFFICIENT】- Our inflatable sofa is designed to be closely sealed or fitted so as to prevent
air-leakage with its leakproof air plug integrated. In addition, the air plug is designed to allow air to enter easily
with a large-caliber gas plug. So your sofa can be inflated and deflated quickly by just adjusting the opening to
the air plug. The innovative air plug design helps keep the sofa durable - you can now enjoy your sofa for a long
time and it's quick to pack once you're done!
🛋️【VERSATILE】- Our inflatable sofa has a wide range of uses. It is great for almost everywhere where the
surface is flat and without nails, thorns, stones or any sharp objects. It is suitable for places like your living
room, bedroom, garden, backyard, the park for reading, resting, watching TV and more!
🛋️【SATISFACTION GUARANTEED】: Each inflatable sofa, footstool and air pump set we sell is inspected carefully
and packaged well to ensure that it's safe and of the highest of quality. If for any reason you feel that it does not
meet your expectations, do reach out to us and we will get things right for you.
We love to hear from you,our team is available to help answer questions and offer styling advice, so if there's anything you'd like to ask us, we're right here and ready to help in every way we can.
We're available to support you via
Email: jet@willcol.com
Instagram:ywwillcol

Service Tel:+86-13967425749

Whatsapp:+86-13967425749

Yiwu Yaoku Trading Co., Ltd.
We strive to answer your questions within.24 hours.
Customer service chat hours:
Monday to Saturday (Except holidays) Pacific Time: 5:30 pm-2:30 am the next day
We care about every customer and will contact you as soon as possible!
Listen carefully to all suggestions and comments, and welcome everyone to come and give me your opinions.
Please kindly note: During peak seasons and promotional sales, our response time might take a little longer. Please use the same email address you used when placing your order when contacting us, and include your order number in your email.