Car Shaped Inflatable Swim Float Boat Pool Floats For Kids With Canopy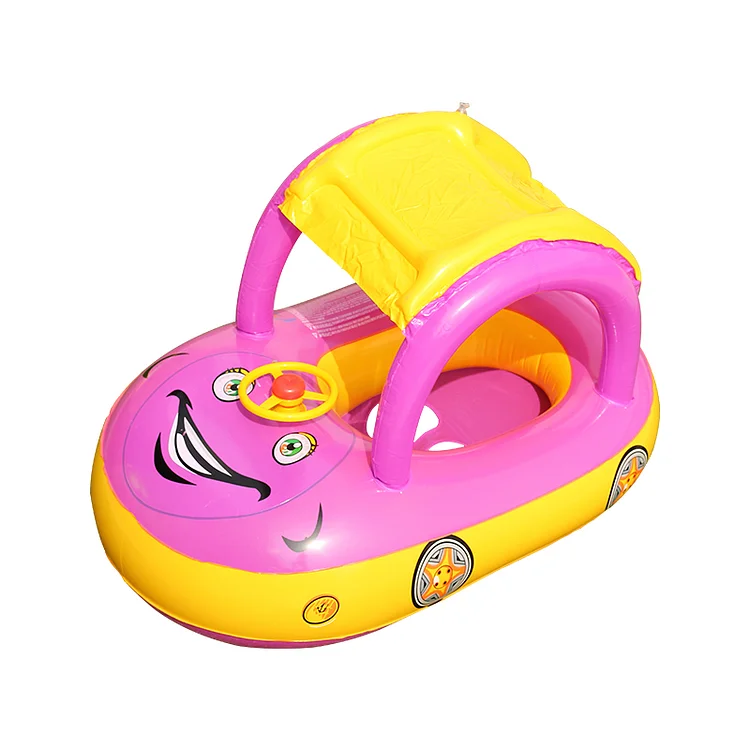 Car Shaped Inflatable Swim Float Boat Pool Floats For Kids With Canopy
About this item

Our Baby Swimming Inflatable Float Boat is a great idea for kids that want to learn
how to swim or just enjoy fun in the pool. It can also increase the interaction between
you and your baby, and enjoy your fun time.
Our baby pool float with a sunshade canopy offers protection for your baby from the
sun and ultraviolet rays.
Let your baby sit comfortably and enjoy the ride in the water.
Similar Design of Automobile:
*Interesting design which gives more fun for your baby in the pool.
* Acute steering wheel that does spin and an adorable horn that beeps in the middle.
* The steering wheel needs to be pushed to the end so it doesn't fall off.
Note:
*This isn't a life-saving supply, it's a toy, requires adult supervision.
*Don't put the baby float with sharp objects together, and please observe if there
is any air leak before use.
*Easy to inflate and deflate
*Size and fold up for convenient on-the-go-needs
*Packs away easily for storage
*Easy to put in the suitcase for holiday and travel
We love to hear from you,our team is available to help answer questions and offer styling advice, so if there's anything you'd like to ask us, we're right here and ready to help in every way we can.
We're available to support you via
Email: jet@willcol.com
Instagram:ywwillcol

Service Tel:+86-13967425749

Whatsapp:+86-13967425749

Yiwu Yaoku Trading Co., Ltd.
We strive to answer your questions within.24 hours.
Customer service chat hours:
Monday to Saturday (Except holidays) Pacific Time: 5:30 pm-2:30 am the next day
We care about every customer and will contact you as soon as possible!
Listen carefully to all suggestions and comments, and welcome everyone to come and give me your opinions.
Please kindly note: During peak seasons and promotional sales, our response time might take a little longer. Please use the same email address you used when placing your order when contacting us, and include your order number in your email.