Baby Pool Swimming Float Tube With Canopy And Handle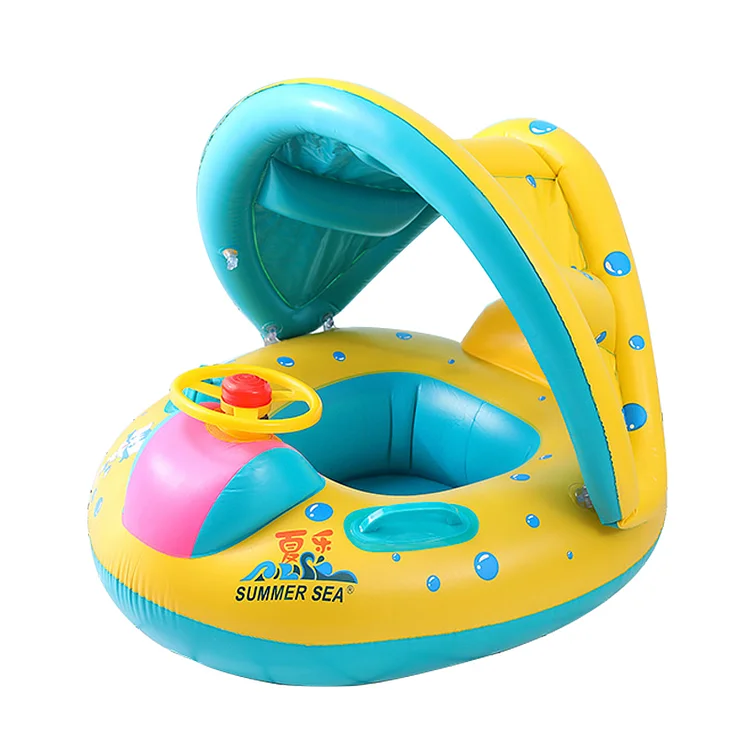 Baby Pool Swimming Float Tube With Canopy And Handle
About this item
* 【Material】 Transparent food grade PVC,crashworthy,pressure resistant,
non-irritatingto baby's skin
* 【Safety】 Heightened backrest,deepened seat ,much safer than other
swimming rings;smooth inner ring,no rough edages,carefully care baby's
skin
* 【Design】 Bright colors and colorful toys on handle stimulate the baby's
interest ,unclosed swimming ring opening
design,suitable for both mommy and daddy, play with the baby ,keep your
baby safe at close range. Removable sunshade design to meet your dual choice,
buy one equivalent to two, the baby skin sunburn problem is non-existent
* 4. 【easy to use】Baby swimming ring can be folded, easy to store, does
not take up space, inflatable fast, the fun can start in seconds
* 5. 【Size / Weight】 length 100cm* width 70cm*height110cm/ length
39.3"* width 27.5" *height43.3", maximum weight capacity 40 lbs
We love to hear from you,our team is available to help answer questions and offer styling advice, so if there's anything you'd like to ask us, we're right here and ready to help in every way we can.
We're available to support you via
Email: jet@willcol.com
Instagram:ywwillcol

Service Tel:+86-13967425749

Whatsapp:+86-13967425749

Yiwu Yaoku Trading Co., Ltd.
We strive to answer your questions within.24 hours.
Customer service chat hours:
Monday to Saturday (Except holidays) Pacific Time: 5:30 pm-2:30 am the next day
We care about every customer and will contact you as soon as possible!
Listen carefully to all suggestions and comments, and welcome everyone to come and give me your opinions.
Please kindly note: During peak seasons and promotional sales, our response time might take a little longer. Please use the same email address you used when placing your order when contacting us, and include your order number in your email.