American Adapter Portable Electric Air Pump Quick Fill With 3 Nozzles For Swimming Ring And Pool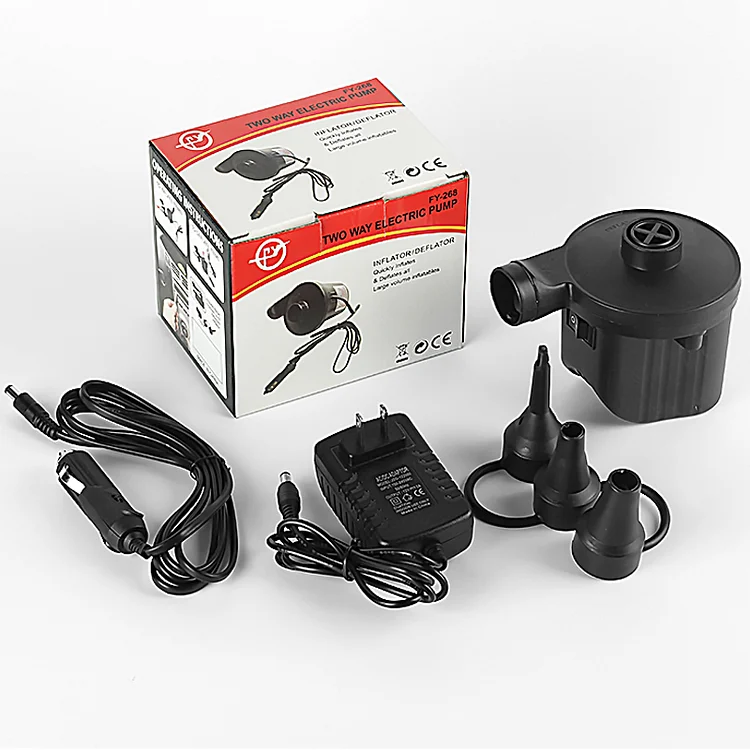 American Adapter Portable Electric Air Pump Quick Fill With 3 Nozzles For Swimming Ring And Pool
About this item
Powerful Electric Air Pump -- The WillColair pumps are so powerful that it can not only inflate items but also
deflate products by sucking air out! Car power adapter and home power adapter are included, making it possible for
indoor and outdoor use. ( NOTE: This air pump is NOT rechargeable and NOT FOR BALLOONS!!!!!! )
3 Nozzles to Choose -- We have 3 nozzles of different size in the electric air mattress pumps – S, M and L,
allowing you to inflate/deflate different items in any occasions!
Easy to Use -- The inflatable mattress pump is compatible with 12V DC and 110 -120V AC power
supply. To inflatable, just put the inflatable head at the filling hold, then press the switch. To deflate, you should
put the inflatable head in the vent hole, then press the switch to deflate. Our electric air mattress pumps are
simple to operate.
Portable -- The inflatable mattress pump is small and lightweight, making it convenient to use it indoor and
outdoor. At a travel-friendly dimension, you can easily take air pumps anywhere you go!
Multi-Purpose -- Including car power adapter & home power adapter. This inflatable mattress pump is a
powerful inflator and deflator for both indoor and outdoor use, especially for travel and outdoor activities. WillCol air
pumps helps you saving time on inflating air cushions, air beds, air boats, inflatable furniture, swimming ring and
more!
We love to hear from you,our team is available to help answer questions and offer styling advice, so if there's anything you'd like to ask us, we're right here and ready to help in every way we can.
We're available to support you via
Email: jet@willcol.com
Instagram:ywwillcol

Service Tel:+86-13967425749

Whatsapp:+86-13967425749

Yiwu Yaoku Trading Co., Ltd.
We strive to answer your questions within.24 hours.
Customer service chat hours:
Monday to Saturday (Except holidays) Pacific Time: 5:30 pm-2:30 am the next day
We care about every customer and will contact you as soon as possible!
Listen carefully to all suggestions and comments, and welcome everyone to come and give me your opinions.
Please kindly note: During peak seasons and promotional sales, our response time might take a little longer. Please use the same email address you used when placing your order when contacting us, and include your order number in your email.