4 In 1 Multi Purpose Candy Confetti Glitter Inflatable Water Hammock Lounger Chair Pool Floats For Adults And Kids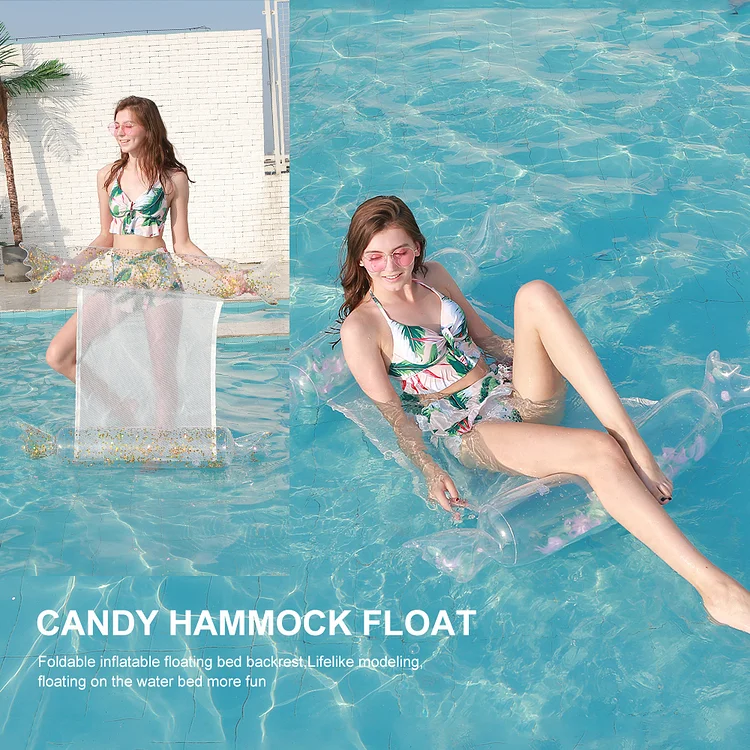 4 In 1 Multi Purpose Candy Confetti Glitter Inflatable Water Hammock Lounger Chair Pool Floats For Adults And Kids
About this item
* 【RELAX AT THE POOL, BEACH OR LAKE】 Candy hammock glitter-filled pool float air pillow tubes is ideal for
the entire family to enjoy kids and adults in the water. The fun rose gold swim float is perfect for decorations for
pool parties and BBQs at home, Lake or beach. Can be used to lay on the beach to lay on the sand as well. Features
inflatable air tube pillows on both ends for feet and head filled with rose gold glitter, making you the trendiest
pool lounger!
* 【4-IN-1 MULTI-PURPOSE SWIMMING POOL FLOATS】 Multi-purpose function and versatile design allows for
this glitter pool float to be used as a water hammock, pool lounger chair, exercise saddle, and a drifter - just
unroll from the package and inflate the head pillow and foot rest and get ready for relaxing days in hot summer!
Unique spring mesh pool float can be used for exercise and water aerobics. Easily inflates and deflates for easy
portability. The coolest pool toys floaties accessory!

We love to hear from you,our team is available to help answer questions and offer styling advice, so if there's anything you'd like to ask us, we're right here and ready to help in every way we can.
We're available to support you via
Email: jet@willcol.com
Instagram:ywwillcol

Service Tel:+86-13967425749

Whatsapp:+86-13967425749

Yiwu Yaoku Trading Co., Ltd.
We strive to answer your questions within.24 hours.
Customer service chat hours:
Monday to Saturday (Except holidays) Pacific Time: 5:30 pm-2:30 am the next day
We care about every customer and will contact you as soon as possible!
Listen carefully to all suggestions and comments, and welcome everyone to come and give me your opinions.
Please kindly note: During peak seasons and promotional sales, our response time might take a little longer. Please use the same email address you used when placing your order when contacting us, and include your order number in your email.