3 Layers Family Size Portable Inflatable Swimming Pool For Backyard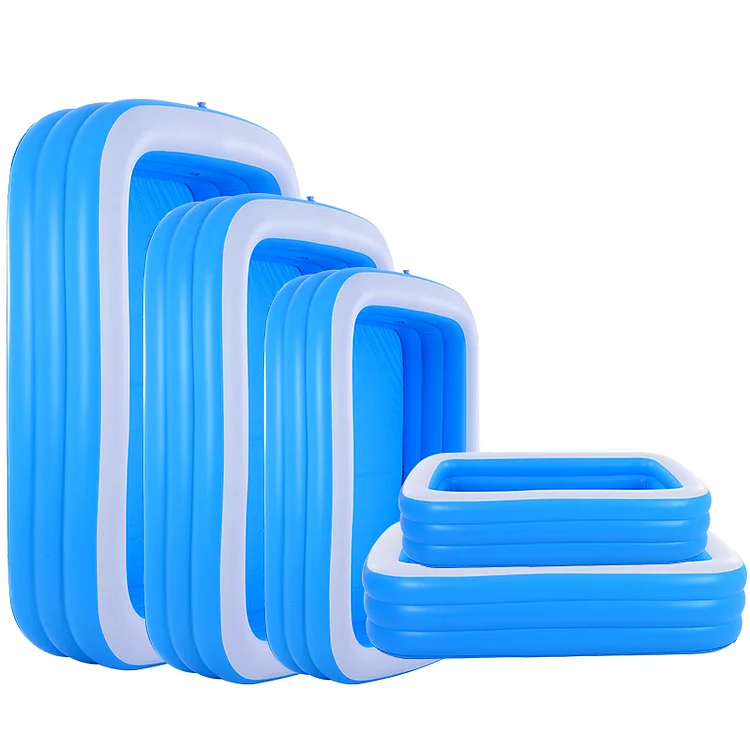 3 Layers Family Size Portable Inflatable Swimming Pool For Backyard
About this item
·
【Family-size Inflatable Pool】: It can hold up to 1-2 adults plus 3-5 kids(Age 3+) to enjoy a splashing pool
party in the backyard.This inflatable pool would be a great entertainment for your kids, pet dogs and family.
·
【Safe & Durable Retangular Inflatable Pool】: Willcol swimming pool for kids is made with Phthalate and lead
free, Using BPA-free materials that meets the standards of international children's toys, which is twice thicker
than most in the market, reducing the risk of punctures and ensuring a long service life.
·
【Quick and Easy to Use】: The family inflatable pool is easy to set up, you just need to simply spread out on
the ground level.The inflatable pool can be inflated in 3-4 minutes by electric pump (not included), built-in 2
curve water valves double the drainage speed.
·
【Sturdy &Stable Pools for Backyard】: Comes with 3 individual air chamber each with double intake and free
flow exhaust valve , the swimming pool for adults can withstand extra weight while preventing air leakage. 90°
vertical drainpipe of inflatable swimming pool can facilitate the outflow of water, tidying inflatable pool up is no
longer an issue.
·
【Great Gift,Swimming Pool and Ball Pit】:Willcol inflatable pool is a great gift for your kids, families, pet dogs
and friends. They could not only enjoy the hot summer day time with our inflatable pool in the backyard,but
also it would be used as the ball pit indoor when the weather is cool.
We love to hear from you,our team is available to help answer questions and offer styling advice, so if there's anything you'd like to ask us, we're right here and ready to help in every way we can.
We're available to support you via
Email: jet@willcol.com
Instagram:ywwillcol

Service Tel:+86-13967425749

Whatsapp:+86-13967425749

Yiwu Yaoku Trading Co., Ltd.
We strive to answer your questions within.24 hours.
Customer service chat hours:
Monday to Saturday (Except holidays) Pacific Time: 5:30 pm-2:30 am the next day
We care about every customer and will contact you as soon as possible!
Listen carefully to all suggestions and comments, and welcome everyone to come and give me your opinions.
Please kindly note: During peak seasons and promotional sales, our response time might take a little longer. Please use the same email address you used when placing your order when contacting us, and include your order number in your email.